Peter Golding has a collection of Rock & Roll art that has been on show from the Whitney Museum here NYC, to Museum of Design in Zurich. A whole lot of is will be going up for auction here in NYC at Bonhams & Butterfield on 14 May.
So, here is your chance to get a hold of the wonderful imagery that rock & roll has had to offer over the past 4 decades.
NYWaste sat down with Peter at Le QuecumBar in London during their 5th anniversary party, while listening to wild gypsy guitars, violins, bass, voices, and Peter's wonderful harmonica playing, all in honor of the great style of Django Reinhardt.
Peter: Yes, we are going to be listening to harmonica, and some guitar and we're surrounded by all these gorgeous ladies... drinking champagne, and it just so happened that the subject of my auction came up... It's happening at Bonhams NYC, on the 14th of May. This will be the opening of their new astounding premises on Madison Avenue that they have just taken in the IBM Building... Bonhams is one of the leading and oldest auction houses, originally based in the UK who acquired USA's Butterfields some years` ago. They do a wide variety of auctions including antique furniture, jewelry, fine art, automobiles, collectables and now they are going to auction my art collection, probably the worlds first major auction of Rock n Roll art...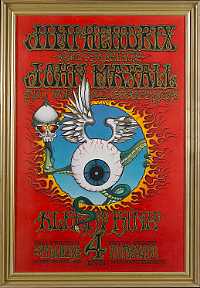 Rick Griffin: The Flying Eyeball. Oil on canvas 47"X701/2".
Basically, my collection, which you can find on InspirationalTimes.co.uk, a major part of that is going to be auctioned, it is basically NOT "posters" although there are one or two poster collections, this is all the original art for the posters or for record covers, and the working drawings that went to making them. When an artist works, he does studies and the artwork and the process are as important as the final artwork. There's a lot of work for bands like Jimi Hendrix, Who, Clapton, Aerosmith, all the bands, they are all very well covered, (Pink Floyd, The Cult, The Sex Pistols, U2, Kiss, The Who, Alice Cooper, Quicksilver Messenger, Sly and the Family Stone, Ike and Tina Turner, Metallica and Guns and Roses.) There is obviously a huge amount of the Grateful Dead which will please a lot of Dead Heads across America, some are still in their bedrooms, listening to their hundredth subterranean Dead album, and others are on Wall St. earning fortunes... the highest element is work by Rick Griffin (think flying eyeballs) which is valued at $250,000 to $350.000 and then at the other end of the scale, you've got the odd things which are valued at $200 to $300, so there really is something for everybody.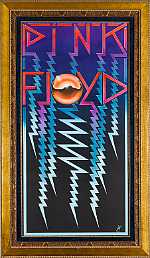 Alton Kelly: Pink Floyd. Airbrush artwork 19"X391/4"
I personally believe that there is a lot of interest in this going on. There is a huge move towards the original art for rock'n roll. Original art, just like Banskys graffiti and urban art is important right now, if you like this is the urban art of the period in a different way, it was from the people. These artists were, almost like, members of the band. Now, the famous artists, like Rick Griffin, who died in 1991 in a motorbike accident, he was an amazing guy, a fabulous draftsman - and these guys could draw, no computers, he did the flying eyeball, a lot of work for the Grateful Dead, he did a lot for surfing comics, there are a lot of surfer cartoons in there by Rick, and stuff he did for Zap Comics. He was reputed to be the greatest. He was the Jimi Hendrix of that field. Then there is Stanley Mouse and Garry Grimshaw, you've got Alton Kelley, Alton Kelly, Victor Moscoso, Randy Tuten, David Singer, Dennis Larkins, Wes Wilson, Michael English and Nigel Waymouth.
Stanley Mouse & Alton Kelly. Mixed media on board, 28"X42" (481/2"X601/2" incl. frame)
There is the original art for the Terrapin Station which was a famous Grateful Dead album, and then again, in the late 1990s, the Grateful Dead wanted to create amazing venue as a huge permanent place they wanted to call Terrapin Station. So there is this amazing painting and they released a 3 CD album, and I have the original art for that. Then there is the Jester by Stanley Mouse from 1973 of the Grateful Dead skeleton, the skeleton mandolier. All these famous icons, and small little drawings.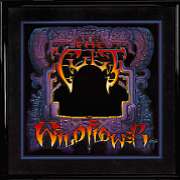 Rick Griffin: The Cult - Wildflower, Cover artwork, airbrush and gouache on board, signed, sold with a US promo pressing of the 12inch single, image 17" square
Michael English & Nigel Waymouth (aka Hapshash And The Coloured Coat): Jimi Hendrix Experience at the Fillmore Auditorium NYC, original poster artwork, 1967,
Estimate: $75,000 - 125,000
It is said he picked up his first poster in Hyde Park during a protest concert in Hyde Park, London in 1967
How did you acquire all this stuff?
I was first very into the English posters in the mid-60s, and I knew a lot of the guys, I just collected the posters. Then a couple of them did some work for my fashion business as graphic artists. And of course I loved the period, and I was involved with it, so I kept them under my bed. Those were the British guys and there were mostly only posters, there are only two pieces of important original art which are in the auction.
A complete set of the 48 issues of 'OZ' magazine, 1967-1973
That's how I started collecting, then I didn't do a lot til the late 70's or 80's and then I went to America and eventually I acquired most of the Rick Griffin because he passed away and Ida wanted to sell the estate, and there weren't that many people interested at that time who could come up with it and I managed to acquire it, and was very proud of that. And then I met Stanley Mouse, I met Victor Moscoso, Alton Kelly, Garry Grimshaw, Randy Tuten, all these guys. Here's this English guy who is reasonably straight up, "Father Christmas is here and there isn't even any fucking snow on the ground!" I was in the fashion world, so somehow I could manage and I had a passion. My main interest for building it was the cross-culture between American & England. It wasn't just buying up stuff and sticking it in the corner. I started to catalogue it, and I started to research the history, because I love the period, I thought the social history of that period, the 60's, 70's, was very challenging. So we smoked a couple of spliffs, but so what, that's isn't what it was all about, that was the protest. And compared to this world, that was just wonderful, and the spirit of those days still lives on. It lives in the art, that's why you have a lot of collectors and wealthy people today who were inspired from the period and you can look back there by having this art on your wall. Come along!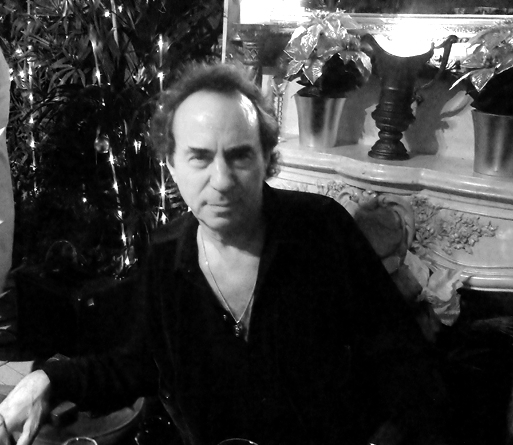 There will be a viewing in LA and San Francisco, and there will be some bidding arrangements if you live in LA or SF by phone or they might open an actual establishment in LA and SF, keep your eye on it at bonhams.com
Synonymous with Stretch denim, Golding was part of the 60s fashion movement and created the first "Designer" Jean in 1970 and then his renowned ACE boutique in London's Kings Road in the mid 70s-80s with its celebrity clientele of stage, screen and rock & roll.
Where did you begin your career in fashion?
I was a manager trainee, then I went to design school at the same time, I didn't not have a traditional design education, I learnt it the hard way. I went to the school of knocks and the university of life in Paris, then I was the first graphic designer to be elected as a member to the Society of Industrial Artists & Designers which I was very honored to be, then I became a Fellow, now I'm a Friend of the Society of the Industrial Arts, now I'm a Fellow of the Chartered Society of Designers. And then I was invited to Buckingham Palace by the Queen & Prince Philip who was the patron of the charter of the Chartered Society of Designers.
Check out Peter's collection at:
www.inspirationaltimes.co.uk

Los Angeles Exhibition:Viewing
Fri. 18th, Sat. 19th, Sun 20th April
San Francisco Exhibition:Viewing
Fri. 25th, Sat. 26th, Sun. 27th, Mon. 28th April
New York Exhibition:Viewing
Fri. May 9 10am – 5pm
Sat. May 10 10am – 5pm
Sun. May 11 12pm – 5pm
Mon. May 12 10am – 5pm
Tuesday May 13 10am – 5pm
Sale: Wednesday May 14 - at 1pm