The Wylde Side of Williamsburg - Karol Khaos
I'm back from the grave!
Miss me? I was on a very stressful, three month hiatus from the New York Wasteland and boy did I miss it! I bit the bullet and left my squalid shoebox in "Billyburg" and moved on to greener pastures (or so I thought). I came to Bayridge for the space and the cheap rent. It was absolute bliss my first month here until things went sour six miserable weeks ago. My main purpose of moving to a full on Guido neighborhood was to get away from the unsettling noise of my previous rat infested closet where a good nights sleep was a rare luxury (a 24 hour car service located directly opposite my loft space, a high powered exhaust fan inside my wall which vibrated 12 hours a day and not to mention a major rodent infestation). So moving to the very same neighborhood where Saturday night Fever was filmed was a refreshing get away for me with not a trendoid hipster for miles! Than some weirdo(s) who dwell above me started causing such a disturbance I can barely hold a pen without shaking. They stomp around all night long on bare wood floors wearing what I can only assume are clogs of some kind. From 1pm to 5am they drag something very heavy across the floor from one room to another. They blast obnoxious Latin music all night long and cohabitate in a one person occupancy studio. But aside from almost never sleeping, things here are really great!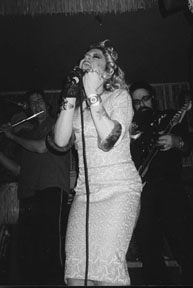 My first evening out in months was quite a memorable one. P5! was holding a special benefit party in honor of PUSSY magazine. Bull and I arrived early and treated ourselves to a couple of ice cold pints of Pabst. We sat around for a bit absorbing the Tikki ambiance. We munched a few too many magic brownies courtesy of P5's table of treats. A petite blonde lady hopped on stage with her eclectic mix of musicians. Another striking gal sporting a fancy pirate's hat stood to the left of the stage, harmonica in hand. To the right stood a tall fellow grasping a flute. A cuddly biker dude sat behind the drum kit (who you may remember from a NYWASTE cover holding Mr. Grinch for Xmas way back when). A well dressed gentleman wearing a hot cowboy shirt strapped on a guitar. I knew this band was gonna rip shit up, I could feel it in my weary bones. I was about to witness Lex Grey and The Urban Pioneers. This Brooklyn based band consists of Lex Grey (vox), Mike Golden (skins), Adam price (guitar), Craig Robinson (bass), and Chuck Bittman (guitar). Lex and the boys (and pirate lady) tore the fucking roof off! Lex has a very wide vocal range which is truly mesmerizing. The urban pioneers have a very unique rock and roll sound with a great big bluesy edge. I heard a lot of folks comparing them (Lex) to Janis Joplin which may be so but they definitely have a sound all their own. I was also reminded ever so slightly of chanteuse Gitane Demon.

The Urban pioneers have a CD available called AMERICAN HEROINE. I highly recommend this Brooklyn based outfit. Very sexy, extremely talented and definitely worth checking out. Next up was one of my favorites, Mzpakman. Never a disappointment, always something colorful and fun. Mzpakman introduce a couple of hot new tunes off their brand spankin new CD, Entitled "OH NO YOU DIDNT!" (there are some awesome Danny Hellman graphics on this new release as well.) These ladies get better and fiercer every show. After the show I needed some fresh NYC air because the magic brownie I ingested was working its magic a little too well. Bull and i decides to stop in a deli for some libations for our hour long treck home. On my way out from the bodega I tripped and fell busting open my knee cap really bad. Than, to make matters worse, I cut open my finger going through the friggin subway turnstile. Just when things couldn't possibly get any worse, I lose Bull somewhere on the subway platform. I started to panic and eventually began weeping. Finally we found one another. What a mess. Must be sleep deprivation. I also made a huge scene on the subway being belligerent, drunk, high, crying and throwing bloodied tissues at passengers. What lack of sleep can do to a girl. No one made eye contact with me and, sound familiar? Yet again I was being baby-sat. We arrive home around 2am to the lovely sounds of my neighbor moving heavy objects across the floor. I love livin' in the city........


Live photos by LisSsa Darrow
correspond?
karolchaos@aol.com
and, until we meet again,
LIVE THE KHAOS.......