SHE WOLVES
are
Donna - guitar/vox
Gyda Gash - Bass/vox
Tony Mann - Dums/vox
What is your best memory (if any) of a family vacation when you were a kid?
Tony: Went to Disneyland and met Goofy.
Donna: Once when I was about 11 or 12 we drove down through Amagansett early in the morning. We had to stop the car to let a doe and her fawn cross the road. We all went "Aaaaaaw…"
Did you have a pet as a kid? How did you feel when it died?
Tony: Yes - a full-blooded Wolf! It didn't die - it chewed a hunk out of some jerky kid's leg - so we gave it to a wolf farm in New Hampshire.
Donna: I had a succession of kittens for pets when I was a kid. All carted away by my mom and gramps to the ASPCA (where's Cuddles?) After the fifth or sixth devastation I called it quits. Great launch pad for emotional detachment, mostly from people.
How old were you when you realized you could possibly make a living playing music?
Tony: I still don't think you can...
Gyda: Huh, people make livings at this? Anyone I ever knew who made a "living" at it stopped making good music.
Donna: I was in my late 20's when Cycle Sluts got their first advance from Sony. I went to three or four different banks with a check made out for $86,000. Other than this very valuable particular piece of paper, we were flat fuckin' broke. I didn't have a bank account or valid I.D. no bank would take it. Still, I thought we may be onto something.
Why did you get into playing?
Tony: Neighbor's father died and left me a drum set.
Donna: I was a wrecked, jaded, art student going nowhere. I squandered the last of my youth on drug, drink, and a string of bloodsucking losers, each one more pathetic than the last. Might as well have some fun I thought. Not give a shit where life was headed. Being in a band was the natural conclusion.
Gyda: I started playing guitar when I was 12. It was an act of self-parenting. Huge acoustic Martin 12 string, bigger than I was. Playing the bass was a complete accident. I was in NYC with nothin' but a dope habit... a note had appeared in my mailbox "we want you to come to LA and play bass in our band". I thought it was meant for my ex (Cheetah Chrome/Dead Boys) so I called the band and told them Cheetah doesn't live here anymore. Turns out they wanted ME - didn't care that I never before touched a bass guitar; they wanted a chick and were willing to teach. So I packed a suitcase, said good-bye to New York, and learned the bass while kicking a dope habit, my head on a pillow next to my Sunn amp and giant 18-inch speaker. The withdrawal pains I was feeling found their way through my fingers into the instrument and out through the music. [It was probably because of] obsessive compulsive disorder mostly.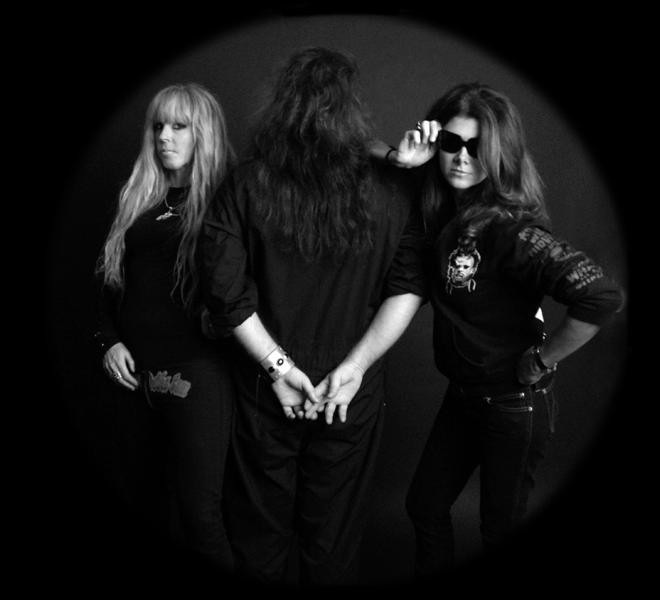 If I asked the other band members what they thought of you personally, what do you think they would say?
Tony: Donna would say I'm pretty neat and Gyda would say I'm a douche!
Gyda: They'd say I can be a nasty bitch but I have a loving heart.
Donna: Gyda would say I'm an alcoholic but I have my moments. Tony would describe me as pretty funny cause he can laugh at anything and is actually amused by people's shortcomings.
How many years have you been playing?
Tony: Since I was 3 years old
Donna: Playing guitar live for about 12 years.
Gyda: Bass since 1984.
What's the worst prank you played on someone that you since really regret doing?
Tony: Put itching powder in my friend's bed, super glued Oreo cookies to his jeans (while he was sleeping in them), put bloody soap and black soap in his soap dish, and put some kind of whistling thing in his car tailpipe - oh yeah and put exploding loads in his cigarettes - all in one day! (Don't really regret it though)
Gyda: I told Howie Pyro that I severed my arm with a chainsaw during a "New Hope for the Plasmatics" rehearsal (my Plasmatics cover band where I did my Wendy O impersonation on vox). I had people to back up my story so he really believed it. It was actually one of my best pranks and I don't regret it at all. Caller ID really ruined telephone pranking.
Donna: When the Sluts were in the middle of the Motorhead tour in Europe I phoned our bass player in his hotel room and pretended to be from Danzig's management. I told him that Danzig's bass player abruptly quit and that he was being offered the slot to finish their tour. I also said he'd be messengered a plane ticket to whatever fuckin' city Danzig was playing at that time (can't remember which), but he'd have to split immediately. Needless to say, he had his bags packed in less than an hour! Of course he got really pissed off when he found out he wasn't joining Danzig after all, but later he was a really good sport about it.
I know this was a totally fucked up thing for me to do, but I nearly pissed myself trying not to laugh while making that call.
What's the worst one done to you?
Tony: Same guy gave me a hotfoot and held a fish up to my nose when I was sleeping - I got the best of him though - his cigarette exploded when he was trying to light it while driving! haha!
Donna: Nothing as awful as that. If someone did something like that to me I'd kill them!
Gyda: I was on tour with Angel Rot and my bandmembers left me at a truckstop somewhere near Missouri... It was horrible. I had gone in to use the bathroom, came out, and the van had disappeared. Had no cell phone. Nothin'. I panicked. The worst of it was there was a small mutt who had also been left and he was running around in a frenzy, searching from car to car, person to person. When I tried to find the dog's owner I was told that abandoning pets at truckstops was very routine in the Midwest. I became hysterical. Which may also answer some of your first questions on top of the list. I have very strong feelings for animals, more for animals than humans actually. Four legs good, two legs bad.
If you hadn't become a musician, where do you think you'd be now, doing what?
Tony: In Central America, running a bar
Donna: Can't even imagine it.
Gyda: I'd be a dominatrix, still on drugs
Have you ever been busted for anything other than weed?
Tony: nope - not even weed
Donna: Yes, for illegal bartending, after-hours.
Gyda: Indecent exposure. I was working as a go-go dancer and I got busted for flashing in a club in New Rochelle.
Ever been in jail/prison?
Tony: yes - it's called school - what a waste of time! It was for a fight with a cop.
Donna: No, either posted the bail or managed the crime without doing the time.
Gyda: Only as a visitor
Any advice to young wanna-bees who may be reading this?
Tony: I don't take or give advice well - good luck though!
Donna: If them young whatevers want advice, they better at least buy me a drink first.
Gyda: Find your own voice. Be inspired by the past, but don't try to recreate it. Do something new for God's sake.
Are you content with your life right now?
Tony: Pretty uninspired lately.
Donna: Nah. Never.
Gyda: My life is extraordinary. Beyond my wildest dreams. I am healthy and wealthy and poor as hell.
Do you do what your management advises, without question?
Tony: Don't do anything without question.
Donna: What management? No one wants to touch us unruly bastards.
Gyda: Management? You mean, uh, Donna?
Does your management/ record company listen when you have a suggestion to make? Or do they just pretend to and go on with their own plans for the band regardless?
Tony: Yes or we work with someone else.
Donna: In '07 Poptown Records will release "She Wolves/Mach One" which are the earlier recordings of She Wolves spanning Laura Sativa to Gyda Gash. Chris Laubis from Scared Stiffs runs the label and so far it's been maaaaahvelous!!!!
I should mention that these sessions were all done with producer Paul Ena Kostabi who we've recorded with exclusively for the past few years. Undoubtedly, my favorite producer to work with, ever.
Gyda: I cannot even imagine how I'd react to an unsympathetic management/ record company. I have seen far too many great bands ruined by such organizations.
Where are you guys headed?
Tony: Hopefully we can get to another level and keep doing what we like
Donna: Short tour down to D.C with our buddies Earthride (Southern Lord Records) in September!! Tour kicks off at Ace of Clubs on 9/28 also on the bill is Backwoods Payback and Blackthroat. We are very psyched!!!
Gyda: We're goin' down. South. To play the "FEAST IN THE EAST" tour with one of my favorite bands Earthride. Then we are going to do some more recording. She Wolves have been in an evolutionary state since I joined the band 2 years ago. Our music has gotten progressively heavier: the focus has been on creating and direction with the writing more complex and ambitious. My personal sights are set trying to come up with clever, soulful riffs and exorcise my demons through the music.
What do you like to drink (beer, wine, whiskey, etc.)
Tony: Love all types of booze.
Donna: Wild Turkey 101 & Beer
Gyda: Strong Ass Coffee
Favorite bar:
Tony: Otto's Shrunken Head is always fun, otherwise wherever the drinks are free - I live next to a liquor store.
Donna: Otto's!!! It's the funniest place to hang since the Lismar Lounge. Three of Cups also, especially when Morgan or Dave are deejaying.
Gyda: I have to say CBGBs. I've seen some great shows there, past and present. I go to bars to see bands.
Best jukebox:
Tony: Howie Pyro's answering machine
Gyda: DJ Dave "Wake and Bake" at 3 of Cups.
What disc / record / mp3 is on your player:
Tony: Angel Rot, The Willowz, Los Gattos, lots of Glam Rock and weird stuff. New recordings that I am working on... vinyl and tape are much easier on the eardrums!
Donna: This week I'm listening to:
-Earthride's "Vampire Circus" (Southern Lord)
-Thunderbolt Patterson & Ross the Boss's "Thunderboss" (Poptown)
-Chuck Metaxas (from Magges & Roots Rock Rebel) CD of his old band "Next Generation 1986-1989"
Gyda: Tiger B. Smith / Tiger Rock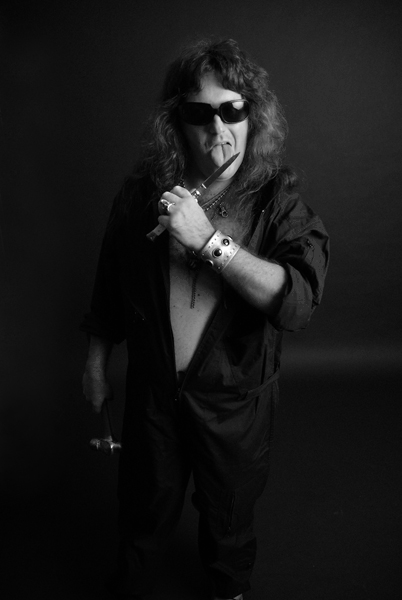 Favorite place to play / entertain:
Tony: Irving Plaza, CBGB's
Donna: Otto's, Dirty Bomb at The Delancey, Ace of Clubs, and of course CBGB! (adieu, boohoo)
Gyda: Irving Plaza to play - what an impeccable sound system. I could hear everything! Entertain I'd have to say Otto's Shrunken Head. (I also have enjoyed playing there, don't get me wrong: but it's no Irving Plaza!)
Fender or Gibson:
Tony: usually Gibson - only certain players make Fender stuff sound good - like Jimi Hendrix or Dee Dee Ramone
Donna: Exclusively Gibson.
Gyda: Gibson Thunderbird
Do you play air guitar:
Tony: NO
Gyda: No, but I play hair drums.
Do you pick up hitchhikers when on tour:
Tony: Whenever possible - or I get picked
Gyda: Only if they're hot. I bet everyone says that.
How long have you gone without doing laundry:
Tony: a month or two - just buy new socks...
Gyda: I don't do laundry. I have multiple items and toss them when they shred.
Favorite toothpaste:
Tony: in England there's a toothpaste that you chew - it comes out of a gumball machine - that's pretty cool
Gyda: Mentadent
Favorite brand of condom:
Tony: any condom that could've stopped George Bush from being born - what a fucking retard!
Gyda: Kimonos.
Favorite junk food:
Tony: pretty much eat only junk food, so it's hard to tell - maybe Pizza.
Gyda: Strong Ass Coffee.
Donna: That shit ain't even food. I avoid it at all costs.
Favorite Position:
Tony: the next one.
Gyda: Boss.
Best wasted moment:
Tony: Woke up in an airport hospital - Orly Airport in France on my birthday - combination food poisoning / substance abuse.
Donna: I was at a wedding attended by Keith Richards. I got so fuckin' hammered and had the following exchange:
Me: You know, you and I made out once when I was like 15.
Keith: Yeah? And what happened to ya?
Me: I became a musician and it ruined my life!
Keith: Ha! Same thing happened to me.
(If that's not my best wasted moment I don't know what is)
Gyda: Does everyone answer "doing this interview"? Is this a set up? Well I, for one, am not falling for it.