Fast Life
by Jimmy "Devilboy" Kiernan
(devilboy99@aol.com)
Drink, Fight, Fuck, Repeat.
When I was younger and even more of an asshole than I am today, the above were the words I lived by. Alright, who am I kidding, I'm a bigger asshole now than I've ever been and it's just getting worse with every year that passes. Still though that code has gotten me this far, whatever that's worth, and should keep me rolling for a couple more years. So much for growing old gracefully...
So, another year has cum and gone and the only thing left for me to do is to resign myself to the hellacious shitstorm and ride it for all it's worth. But it ain't all gloom and doom. Occasionally there are a few glimpses of beauty and perfection in this otherwise fucked existence. The following is a list of the some of the things that made my punk-rock-cock hard over the last year. Check them out and if you don't agree, go fuck yourself. Or better yet, write your own list and then wipe your ass with it. Fuck if I care.
So, here they are in no particular order - hey, punk rock, right?
Best of 2004
Cheerleadr
- All Hail
This is a band from Toronto, Canada - you know the place we all said we were gonna' move to if Shrub won again. Well, I don't know about you but I speaking metaphorically and I ain't going. But if I was, these guys would top the list of my reasons to head North. They look like outlaw bikers, they write songs about drugs, the devil, anal sex and fucking underage chicks and they have killer guitar solos on top of punk styled tunes. This is the best band of 2004, fuck what I said earlier about not ranking bands. These guys are hard, fast and mean - the real deal.
(To hear their shit, check out Cheerleader666.com and no, their name isn't misspelled up top - they're on their 27th name change because of other bands with similar names. So no second "e" anymore in Cheerleadr... uhhh, unless you're going to their website, then you do use it. Genius).
The Retardos
- Keep Winning
Yet another great band from Oslo, Norway (you know, where Turbonegro hails from) that kicks the living shit out of all of our current American offerings. What are they putting in the dope over there and how can we get some on these shores? Those Scando-punks keep getting it right. The Retardos are tight, fast, clever and they blast it out from start to finish on their newest disc "Keep Winning". The songs are super catchy, full of amped guitars, pounding drums and grizzly desperate sounding vocals. Good luck finding their newest disc though, this album is way the fuck underground. But check the band out at Retardos.com and download some free full length mp3s.
Super secret insider tip:
if you like what you hear, email Aaron at info@outoftheloop.com.au and instead of scoring another bag of dope with your last twenty bucks, take the money and PayPal him $17.50 US. He'll hook your ass up with their most recent full length. Trust me, it will be well worth the douche chills you'll have to endure as your body cries out for it's missing "medicine" later.
Juliette and The Licks
- ... Like a Bolt of Lightning
So, this is a real life band that that crazy-ass actress Juliette Lewis (that's Mallory from Natural Born Killers to you, punk) has thrown together. I know what you're thinking: it should suck, moreover it has to suck. If there's a God in heaven this will be shitty. Actresses that decide they want to rock out just automatically blow balls, right? I mean look at Gina Gershon and (gasp) that train wreck Minnie Driver. It's their destiny to eat it.
But something crazy happened on her way to the bottom. Juliette pulled together a killer band of punk vets and wrote a bunch of hard, heavy and fun songs in the vein of Iggy Pop, sort of with touches of Texas Terri musically and some Urge Overkill sounding guitars. And of course, what's better than a hot, crazy actress twisting, contorting, rocking out and hitting it smack in between the eyes? If I hadn't-a-heard-it, I wouldn't-a-believed-it myself, but her tunes make me want to slug down a bottle of Cherry NyQuil and start a fight with a bunch of drunk Longshoremen.
Unfortunately, for now there's only five songs out there right now, in a little CD EP called "... Like a Bolt of Lightning". I got mine from downloadpunk.com for $4.99 all in. Shee-it, that's only one beer, fer Chrissakes. Go get it. Fetch, bitch.
Backyard Babies - Stockholm Syndrome
End of the world, junkie, nihilist speed rock wrapped up in killer hooks with loud sleazy guitars. These guys took a little sideline on their last overproduced album "Makin' Enemies... ", but on this one they're back to their dirty little games. Alright, in all fairness it's not as gutter grimy and epic as their breakthrough album "Total 13" but it's close enough and dammit if they didn't blast through this set like they're hanging by a thread. Louder, faster and more out of control than most of the stuff out there. Skip your next appointment with your parole officer and swing by your local underground store and shoplift this one. Hey, imports are expensive.
H.I.M. - And Love Said No
These guys are an awesome band from Finland that play a unique brand of music they call "Love Metal", which is just a fancy-ass way of saying goth mixed with amped-up Billy Idol style tunes. But ya know what? It works like a charm. They've been together for ten years and although they're huge in Europe, they're trying to break through here in the U.S. They released "Razorblade Romance" last year and this year "And Love Said No", a retrospective from 1997 through 2004 just came out. It's loaded with killer tunes that go back and forth between light and dark textures with loud geetars and great lyrics.
And catch 'em on tour - they're awesome - well, barring that one recent show at Irving Plaza where the lead singer, Ville, got so drunk that he started having lengthy ten minute conversations with the audience while interjecting insults at his patiently-waiting-to-rock bandmates. Oh yeah, and he also kept chugging Jagermeister, laying down on the stage and during one song, threw the mic into the audience four times. Very rock, and funny too.
New York Dolls - live at Randall's Island
Uh, they're legends. Who gives a shit that there was only two of them left when they played at Randall's Island. They looked and sounded insane and it was fun, fun, fun. God Bless the New York Dolls. And the live album and DVD from the Royal Albert Hall in the UK is a sweet, dirty wet dream come true. Thank you, Rock Gods, for letting this happen.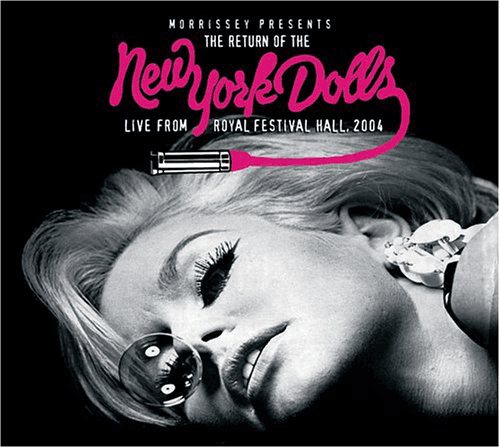 TiVo
I just got this and hot damn if it doesn't change your life. You don't have to think about what's on TV when. You just turn it on, check your "Now Playing" queue and see what sweet little presents TiVo has for you. I feel bad, TiVo, I didn't get you anything. Oh well, maybe someday I can repay you. But for now, my ass will be firmly planted on the couch working on expanding to mindblowing proportions. Pass the Cheetos.
Brides of Destruction - Here Come the Brides
This band has two bonafide rock stars and metal veterans in Tracii Guns and Nikki Sixx. They also have two relatively unknown guys, London LeGrand on vocals and Scott Coogan on drums. All told these guys have more ink on their tat-covered bods than you'd see at a week in Sturgis. They've also logged more miles than the Pope and have died more times than anyone you know (at least twice, and that's just Nikki alone). So what are they all about, you ask? Well they've got super heavy punk-influenced metal riffs wrapped around streetsmart songs with balls-out guitar solos throughout. They don't sound like Motley or Guns - they're way heavier, pummeling actually. The first track "Shut the Fuck Up" is HUGE and set the tone for the headbashing the rest of the album delivers.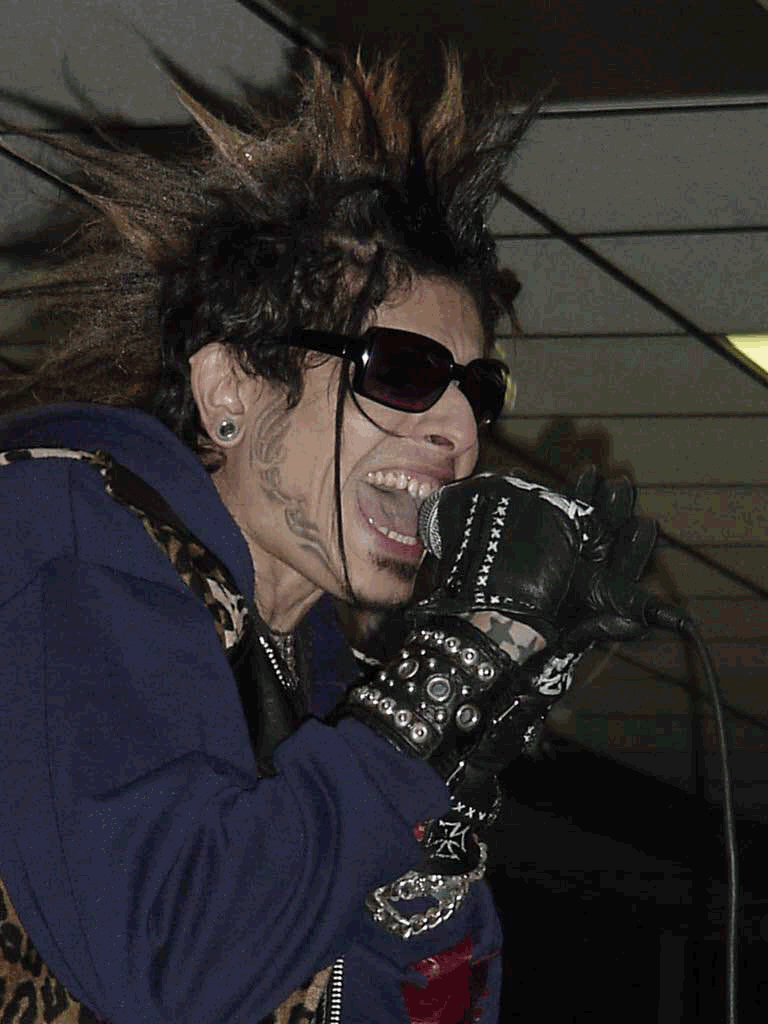 Shrub Re-Elected
Wha?!? Bushie Junior being re-elected made my best of 2004 list??? No, you didn't read this wrong. Why, you ask, as you scratch your pointy little head? Is it because I'm happy that this inbred, hillbilly Fuck-Tard is Pres-uh-dent again? Fuck no. I'm sick to my stomach over it, but in the spirit of turning poppies into opiates, I'm looking at the bright side of things. Yup, there is a bright side. Remember when Reagan was prez? Well, because of that dick's moronic shenanigans, punk rock was never better in ole U.S. of A.
Here's hoping that the psychotic, jackbooted Jesus-freak currently in the White House will continue to make the Gipper look like Mahatma Gandhi and give our little punk scene a much needed shot in the ass. Remember, really corrupt government makes for great punk rock...at least I hope so. If you need me, I'll be in my bunker.
Velvet Revolver - Contraband/live in L.A. @ the Wiltern Theater
Yup, they're metal but at least they're dangerous. This is one of those rare moments of true synergy, when stars from two great bands come together to create an even better one. Sort of like the opposite of Audioslave. Their entire album kicks ass, not a throw away in the mix, and live these guys blast it out. They toss every rock star clich? you can think of into the mix, but face it, these guys have lived the life long enough that they can pull it off convincingly. They don't miss any moves and by about the third song live they're all shirtless, sweating, swaggering, posing and leaning against each other. Very metal.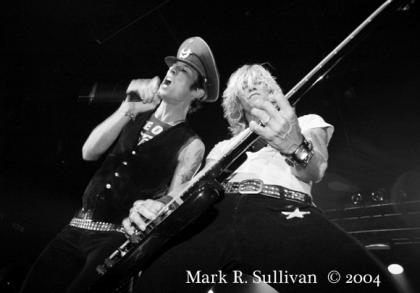 Check 'em out live if you get the chance, they'll remind you of why you got into rock in the first place. I saw 'em at their sold-out Wiltern show in L.A. compliments of a fat Mexican I paid $80 bucks to in an alleyway in Koreatown. I wish I was kidding. Luckily this particular Gangbanger and his Vatos decided not to smash my head in. Close one.
Sugar Ray - live at B.B. King's
Consider this one a little palette cleanser. I went to see these guys to keep my chick happy (hey, my dick likes to get touched - a lot - and this was the best way to get someone other than me to do it for once). And you know what? I dug it. The band rocked the house and that Sugar Ray guy (OK, OK, I know his name is really Mark McGrath) knows how to work a crowd. Not the everyday scene for me, but if you're going through a dry spell with the ladies, try something drastic - it just might work out for you.
Nova Express - live @ Continental
I love this band. Straight forward New York City by way of Detroit, style-wise. Hi-energy punk 'n' roll is what they call their music and that about sums it up. I have no idea who's in the band at any given moment, where they're playing or if they're even together anymore, but other than that you should check 'em out. Lead singer/bass player Mike Dee seems to be the mastermind and he's great fronting them. Huge energy, great vocals, seventies style striped sleeveless shirts and a giant, bushy uni-brow. If anyone knows what's up with this band, email me.
Texas Terri Bomb! - Your Lips... My Ass!
This band just flat out destroys! Every song on the album is a keeper, not a toss-back in the bunch. Texas Terri lives, breathes and screams desperate, visceral punk rock energy. Yeah, and of course, everyone knows that she's the female Iggy, but there's a whole shitload more there too. The live shows are always a workout, for band and audience alike, and their last run was no exception. She stormtrooped through NYC on her last tour with none other than Cheetah Chrome (ex-Dead Boys) and Andy Shernoff (ex-Dictators) in tow. Who else has that kind of time-warp cred? Nobody bitch, that's who.
Stuff that Blew
The Toilet Boys Flame Out
Greatest fucking punk band to hit NYC in a long time and those cheesy spandex bitches Great White had to go and fuck it all up. This just blows on so many levels, I can't even go into it. Damn.

Shrub Re-Elected
Remember what I said about this earlier. Yeah, it sounded like I was full of shit to me too. Four more long, dark, dreary years. Yikes.
The Darkness
I dunno, I just don't get it. I guess I'm not enough of a hipster ass-eater to dig these goofs. I don't think they're good for rock in the slightest and their whole schtick is just weak as hell if you ask me... I know, low-hanging fruit, but these dickweeds really piss me off.
Enough love for now.
Remember to fuck in public as much as possible,
Jimmy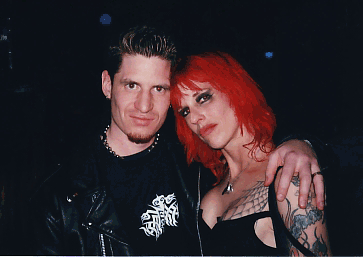 Jimmy Kiernan & Texas Terri!
All together now, Ahhhhh!!!