Interview with Lani Ford of STARK
Interview - Photograhs - Drawing by Alan Rand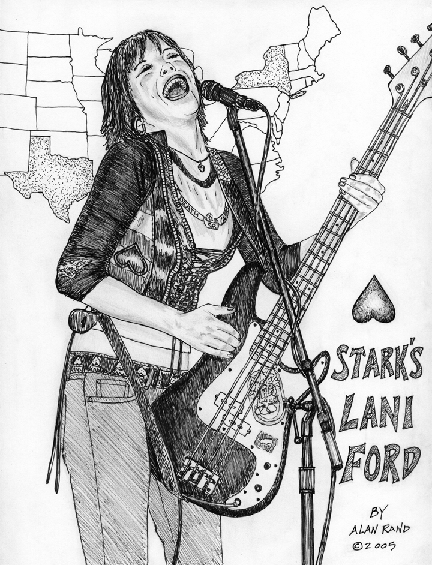 When you are near Lani Ford, you can feel the creative energy that is inside her. She is considered one of the most talented and gifted singers and songwriters by those who know her. I met Lani Ford over a year and a half ago. I saw her at other bands' shows and she would ask me to come and see her band, STARK. I wondered if she'd be another pretty (stunningly beautiful, actually) singer who'd prove disappointing. I finally saw her perform and was hooked that first time. She's also not afraid of creating some spicy lyrics. With lines like "your dagger in my snatch", your ears perk up wondering if that's what you really heard from her beautiful voice.
In addition to singing and playing bass guitar, Lani has studied acting, performed in plays and starred in a horror movie, Zombie Cult Massacre. She has written a one woman play, "The Restless Muse". You can hear her on radio Friday at midnight and early Sunday morning as weekend DJ on WPLJ. Lani has also been a traffic reporter and had a regular stint on Fox 5 News last year.
Adjectives such as "wildly talented", "tremendous" and "Texan beauty" often precede her name in them. It's about time Lani was interviewed for the Waste!
Alan Rand: You grew up in Texas. What was it like?
Lani Ford: My life growing up in Texas sucked for the obvious reasons... bigots - being in a different country basically - violence, bugs, dirt, extreme heat (which I've actually grown to love), driving forever to get milk, cheerleaders... But, it was also good for me in that it made me see a tougher side of life... especially with my family. I always knew I wanted to live in New York City but when I begged my parents to move when I was 7, they didn't get it. (Laughs) I did the whole country thing with horses, barrel-racing, roping, painting barns. I even played basketball for 3 unfortunate years. When I was young I played violin, took gymnastics, studied French, etc. but my parents moved us to the middle of nowhere when I was twelve.
AR: You were valedictorian in high school.
LF: Almost everyone in our awful tiny town was some inbred descendent of someone from Tennessee or something. I did score leaps and bounds above the rest, won several awards for writing and performing, plus was the drunkest person at all the Friday night keggers in people's pastures. I've always been kind of like 2 people in one… I guess some people might call that crazy. (Laughs)
AR: When did you become interested in music and songwriting?
LF: My mother says I started singing at like 2 or 3--everyone in my family would get pissed off because I would make up my own songs instead of singing ones they already knew... I guess things never change. Trying to have a successful band by playing originals is definitely difficult. I don't understand why. I've always hated having to see cover bands. I want to hear what people are thinking and feeling. Typically, my songs are inspired by whatever I've been talking about with other people or some phrase that sticks in my head when I'm waiting for the train... or some line I think of in an (usually) inopportune moment and I have to keep repeating it to remember it. When I wrote "Beautiful Mistake", I had gone to a dance class where my instructor made a minor misstep... she called it a beautiful mistake. I wrote the song in my head while walking to the Tobacco Road open mic and had to keep singing it over and over until I could get it written down on a napkin at the bar. Most of my lyrics are written on beer naps... or the backs of envelopes... or tear stained legal pads. When I wrote "Summer Girl" I was on a bus between Longview and Bowie Texas.
Without really playing an instrument (except hacking around on my violin and the occasional piano), it was hard to think of myself as a songwriter or singer, but I couldn't stop writing songs. And I felt like I had to record them—which I did a cappella on my jambox in my room in the boarding house where I lived during college in the few instances when no one was home. I played some of the songs for a friend and she described them as STARK.
AR: You eventually made it to New York City on your own. Before coming to New York you worked as a DJ in Cincinnati and starred in a horror movie, "Zombie Cult Massacre". Tell us about that.
LF: I've been a DJ in lots of towns, including Cincinnati and San Antonio, for long time. Flying in the helicopter doing traffic was the best job.
The movie was long and hard to shoot. I was the leading lady who discovered the cult, fell in love with the leader, got kidnapped by bikers, then came back to kill my zombie boyfriend. It pretty much turned me off of film acting. I wrote a song in the movie though and did lots of stunts, that was cool, lots of rifle shooting! And we did go to DVD and got a great review from Joe Bob Briggs—I love him.
Yeah, I still do the DJ thing at PLJ. That's why no one ever sees me out on weekends. I did traffic on Fox 5 for a few months -- getting up at 3:00AM sucked. I've been in lots of films and TV shows shot in NY as an extra—also sucks. And I've done a lot of theatre. I love Shakespeare, but I figure I'll return to it when I'm like 50 or 60.
AR: Talking about your journey to New York wouldn't be complete without mentioning your dog, Peaches. After Peaches passed away, you even wore Peaches license tags when you performed.
LF: I still do when I can find the key to the padlock that holds the chain on. Peaches was the English Bulldog I had for 7 years. She died a year and a half ago after 6 months for illness with a brain tumor. It was the hardest thing I ever dealt with, so I decided to make an album to give myself something to live for.
AR: You mentioned open mics at Tobacco Road. I believe you met your band mates Dylan Grewen and Greg Schiff there. You have honed your skills at open mics and performing in other bands. What were those experiences?
LF: I've been able to play with some great musicians in The Love Pirates, The Blind Pharaohs, Killah Pang, The Heather Larkin Band and others. I've learned a lot about how hard it is to have that relationship. It's also a wonderful bond. I taught myself to play guitar so I could take my songs out in front of other musicians. Tobacco Road was my favorite open mic and I really grew there. I also met Greg (my drummer) and Dylan (my guitar player) there and they became like brothers to me immediately…so it was easy.
AR: You've adopted the upside down heart as STARK's symbol. Where did it come from?
LF: John Law (from Banana Fish Zero and The X's) came up with that logo because he says I'm the broken-hearted heartbreaker. His line, not mine.
AR: You've studied bass and voice with some great teachers.
LF: When I moved to New York, the stress made me lose my voice so I had to see a specialist for a while, then I started studying voice with Katy Pfaffl—she's awesome. She gets me and stretches me. My bass instructor, Patrick Pfeiffer, has given me so much encouragement. He's brilliant, like Jaco brilliant… and he was Adam Clayton's (from U2) teacher. He gets me too. I can't deal with anal people who don't understand my need to rock.
Someone was playing the CD the other day and I was listening like for the first time and I guess the stuff is kinda shocking, but only because it's honest, funny, and very heart-wrenching at times. "Somewhere" is probably my favorite song on the album because it's such a reminder that life can always be better or worse, you have to choose what to do with whatchya got.
AR: The CD's title and last song on the album is "The Curse". Your friends believe you are cursed with tremendous talent. Sadly, you believe you are cursed. Why?
LF: Well, just in the last few months, my van and all the band's equipment was stolen. Then the cops screwed up and towed it after finding it on the street, instead of checking to see if it was stolen. I was falsely accused of something I would never do and harassed by the jerkiest detective (or defective, as I like to say) in the world. That doesn't even include what happened before I got here… like my grandmother killing herself, having my $1500 bass and all my CD's stolen while I was at her funeral, then getting held up at gunpoint three months to the day later. I guess I'm the kind of person who can take a lot so I get dished a lot. I sure seem to be in the wrong place at the wrong time too many times. Maybe I was Genghis Kahn in a former life, maybe the world really is out to get me. Then there's just the curse of being female, being born too late or too early, being a Cancer, being born in the South… My Native American heritage has always been considered a curse in my family, which has had generations of very bad luck. I could go on and on but it's kind of depressing. In fact, I thought my bad luck was coming into play recently when I got a new dog. He ran straight out onto Delancey, but luckily Prince Hal was there to stop traffic, climb under a moving car and get bitten to save the day. Streak is truly a little miracle. I have also been very lucky to have such a wonderful network of friends and family… funny how you really realize how much you're loved and supported when you go through hell. So who knows? Maybe things are turning around.
AR: Dylan Grewen wrote "White Trash Rock & Roll Diva", the one song on the album not written by you. Everyone assumes you are the "White Trash Rock & Roll Diva".
LF: I'm from Texas. I get drunk a lot. I cuss like a mother fucker. I wear what I want when I want and I pretty much don't give a shit what anyone thinks (except of course if they think I'm stealing- I'd be much more likely to kick someone's ass). I'm not some redneck loser though. Obviously people with a brain realize it's mostly just a running joke about the world I've fought all my life to escape.
AR: You've been writing and performing new songs and I can hear some differences.
LF: Since we recorded "The Curse", I think my songs have gotten even more groove based. Also, I've been writing a lot more outside of myself... stories of other people whether in first-person or not. Although still dark, I think the songs have gotten more fun. We've brought out something else I wrote a long time ago plus I have at least 10 new songs we're working into the rotation.
Playing live is the thrill, but I can't wait to record the next record. I think we'll know a lot more about what we're doing next time... and of course we'll continue to work with the amazing Joe Hogan. Those guys at Loho were so good to us and really held our hands... even though I passed out in their bathroom, caused Gus to cut himself with a butcher knife and bleed everywhere... and various other decadent incidents. "Decadent Incidents" should be the name of my next record. (Laughs) Unfortunately, we've sold about eight copies and given away about eight hundred. But the response we've had with college radio and very talented people who I admire and have become fans is awesome!
I've been busy with so many projects over the last few years and after our van and all our equipment was stolen I did some real thinking. STARK took a hit and it made us want it more, so I'm going to dig in and focus on getting more radio play, bookings, touring, distribution and just people listening.
AR: What would you like to say to close the interview?
LF: Someone told me recently they thought I was beautiful, smart, funny, sexy, blah, blah, blah, but my one flaw was that I love music too much, that I'm a typical musician who relates everything to music. I took that as the greatest compliment of all.