As soon as I found out that Marky was coming to Edinburgh with his spoken word tour, I got my ticket straight away. This was just after I had returned from seeing the Misfits in London that I found out about it. It was great as I ordered my ticket by phone and it came within two to three days - great stuff!

I was going to be doing an interview with Marky for Jari-Pekka Laitio's upcoming book.

When Marky arrived, Al and Bri's guitars (from the UK Subs) and Marky's drums were being set up. Then it was into the soundcheck that was great fun watching, as I have never been at a soundcheck before. Marky was hitting his drums so hard and fast, as always. Then about 45 minutes before the show I saw Marky and said Hi, and then I went backstage and we chatted and had some pics taken, Marky then very kindly started writing the opening text for Jari's upcoming book! Then he was due to go on stage to start his spoken word show. They had to be off the stage for 9.45 since at 10 pm it becomes a night club venue. Anyway, I left to go back to watch the show. After the show we would do our interview.

I got back to my spot and I had a great view from the balcony. A video played just before Marky came on showing various clips of the Ramones. Then Marky came on and started his Spoken Word. He began by telling us where he grew up in Brooklyn, and showed a pic of when he was a little boy (I remember this picture from Bristol last year), Marky mentioned his childhood too and describing himself as a juvenile delinquent. He spoke about Dust, Richard Hell and the Voidoids he also spoke about Jayne/Wayne County and when he joined the Ramones. He mentioned Richie and also Clem Burke. Marky then went on to talk about his drinking and he is very honest and open about it. Marky then went on to show us more slides. He also mentioned some famous people he had met, like Cindy Crawford, Tony Bennett and Julia Roberts amongst others. It was a very entertaining evening and Marky showed plenty of slides and he showed some art work which had been drawn by some people who had sent them to him, they were all terrific. I could have listened to Marky for a long time. it was very interesting and if you get the chance to go to one of his spoken word shows please go you will have a terrific time too and the music is great!. Marky asked if anyone had any questions and there were questions asked which Marky answered. Marky is excellent at doing his spoken word shows and very professional.



Then, when Marky had finished, he left for a few mins to get ready to come on stage with Al and Bri of the UK Subs. Amongst the songs they did were Sheena, I Wanna Be Sedated, I don't Wanna Walk Around With You, What a Wonderful World, Blitzkrieg Bop it was great to hear them all again.

After the show finished, I went backstage to interview Marky. Jari and I came up with some very good questions for him and Marky's interview will be in Jari's book which is coming out shortly. I would like to thank Marky for an excellent evening and come back soon.

I would like to thank very much Catherine at the Liquid Room and Sarah too for their help in allowing me to wait inside the Liquid Room. Catherine was very helpful and friendly and chatted to me. So thank you very much!
Lynne Cameron - Edinburgh - 13th April 2004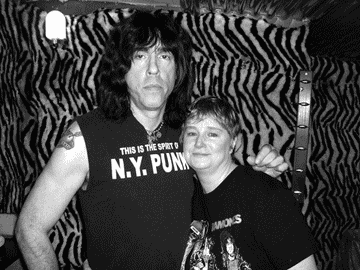 Lynne Cameron runs Marky Ramone's Number 1 Fansite,
www.myspace.com/MARKYRAMONE

There you will find there are files to read, chats & pics to look at and now they got a tattoo folder! Nice! Lynne does great calenders with FAB pix of Marky