October 16, 2006
Peter: Portrait of a Serial Rocker
Peter Blast's NYC Dive Bar Tour
By Victoria Cross of The New York Waste
Veteran Chicago guitar slinger and rock'n roll singer Peter Blast blew through NYC over Columbus Day weekend on a dive bar tour of Desmond's Tavern, Hanks Saloon (Brooklyn) and everyone's favorite tiki lounge, Otto's Shrunken Head. Mr. Blast was joined on stage by longtime drummer/collaborator Dan Curry (ex Hi-Fi and the Roadburners), badass bassist Spyder Darling and lead guitar superstar Charles Darling of local glam-punks Detox Darlings. The three night adventure in high decibel debauchery was in support of Mr. Blast's new CD "Pure Organic Junk" (Poptown) a 15-track anthology of signature songs, rarities and two new tracks recorded especially for the album. Extensive as it is, covering the past 15 years of Blast's career, that still leaves the first fifteen years unaccounted for. A time that included associations with Johnny Thunders, Stiv Bators, '80s hair metal mavens Enuff Z'nuff and the contribution of a song for the soundtrack of the cult film classic "Henry: Portrait of a Serial Killer."
Peter Blast
"It cost five dollars to get in, it's gonna cost $10 to get out!" Blast said to the post Mets game crowd at Desmond's and after a brief instrumental intro the set left the station with "On a Derailed Train" one of the new songs recorded for "Pure Organic Junk". Blast's voice was surprisingly strong considering innumerable Newport cigarettes, raspberry vodka shots and a physique so switchblade skinny he barely outweighs his guitar, a Gibson Les Paul TV Special that, like most of Peter's act, is remarkably similar to his dear departed friend Johnny Thunders' yet unique enough to call Peter's own. Oh and Peter's still alive, big difference there.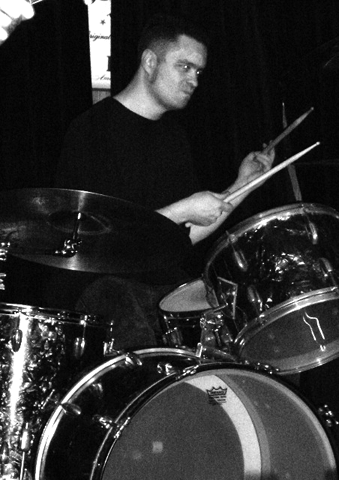 Dan Curry
Together Blast and band played with an astonishing intent and cohesion that belied their brief history: one rehearsal the night before. Spyder's bass rumbled like my stomach on McDonalds' Quarter Pounders with Cheese, yet locked in a hot pocket with Curry's spicy meat and potatoes drumming, while Charles's scorching leads topped off the mix like a fine crème brûle. A gourmet rock'n roll recipe indeed and like a good pot of chili it got even better over the next couple nights.
Meanwhile back at the microphone, Mr. Blast's vocals and attitude recalled the before mentioned Johnny Thunders and Stiv Bators as well as Kevin K, another rock'n roll gypsy keeping the torch of Rolling Stones/New York Dolls style rock aflame in an era where most band's excitement level begins and end with their name: Panic At the Disco, My Chemical Romance and those God awful Queens of the Stone Age. At twice most of those so-called rockers age Peter still rolls with an authority proving he's very much alive, well and "As Sharp As a Knife" as ever. He reaffirmed his status as a survivor with "I Ain't Cursed" before paying homage to his Chicago blues roots with the slow twelve bar boogie of "It's a Cruel, Cruel World". Later, the middle-eastern rhythms of "If I Had a Crystal Ball" showcased the diversity of Blast's influences. After 45 minutes the rock'n roller coaster ride concluded with a pharmaceutical strength rendition of "Pills" Bo Diddley's oft covered ode to rock'n roll nurses and their heady bedside manner.
"forever-tan" - CHARLES DARLING
Peter's next blast-terrific show the following night at Hank's Saloon in Brooklyn showed the band developing faster than Lindsay Lohan on human growth hormone and was a Hell of a lot more hospitable in terms of venue than Desmond's. From its flame painted walls and dimly lit interior, to the back-line of house amps and drum kit, Hank's is miles more musician friendly than Desmond's and the band even gets two free cans of Pabst Blue Ribbon, each. Welcome to the big time boys. On stage Peter and co. flamed through a hot rocking set and that met the approval of Hank's lively, paycheck-drinking patrons as opposed to the usual fluorescent lights, barflies and surly bartenders of Desmond's. Ain't it funny (strange, not ha-ha) how Brooklyn bands used to rehearse and dream of playing in Manhattan and now with CBGB closed and Continental without a stage, Manhattan bands have to come to Brooklyn to get a decent gig. I'm all for irony but this is friggin' ridiculous.
The last night of a rock'n roll tour is always bittersweet and Sunday evening's gig at Otto's Shrunken Head was no exception, especially since Blast and the new band were congealing like Jell-o shots at a July 4th picnic, but when their next show will be is yet to be determined. Following Otto's late afternoon rock'n roll flea market, Peter and the group incinerated a short set to make room for the other acts on cigar chomping, promoter-at-large, Frank Wood's weekly "Wind Down Sunday". Though it was a night without "Orange Sunshine" Blast's sonic flashback to a five day acid trip taken by he and his late '70s band Degeneration (no relation to Jesse Malin and co.) the abbreviated set left more time for fond farewells over fancy umbrella drinks at the tiki bar.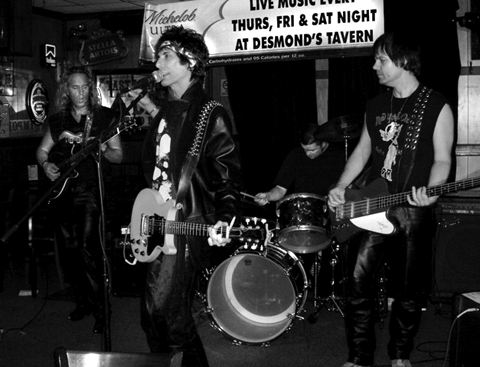 Charles - Peter - Dan & Spyder Darling
It was an explosive time following Peter, Spyder, Charles and Dan around and you'd be advised to do the same next time Chicago's serial rocker comes to town. Spring dates are in the works, but hopefully the "Windy City" will blow Mr. Blast back sooner. Meanwhile, pick up a copy of "Pure Organic Junk" today. It's just what the rock'n roll doctor ordered to keep your ears ringing, head banging and toes tapping till Peter's "Derailed Train" rolls into NYC again.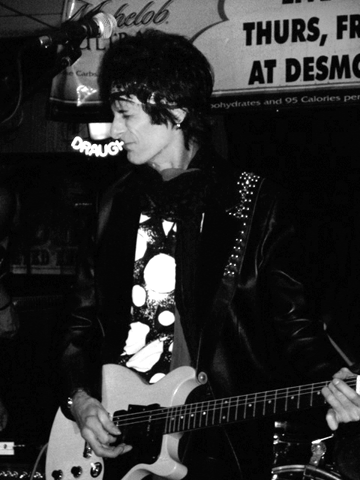 Go For It Baby!!!