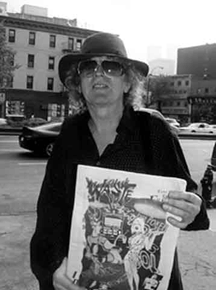 Ian Hunter had his 60th Birthday Bash
at the Bowery Ballroom.

No mistaking English Rock 'n Roll legs.

Well, everyone had a jolly good night, singing along, loving every minute of it. Just another night down the boozer. After what Ian thought was the finaly, his son comes on with birthday cake and we all sing out loud happy, happy, a "fank u very much" later and the gig starts up again, with all the old favorites from the Mott the Hoople days! Roll Away the Stone, Golden Age of Rock & Roll, the works. What a blast. What a history.

Steve Holley on drums, one of the best, Bruce Emerson on guitar struts around brilliantly enjoying the hell outo of his solos, when someone really enjoys what they are doing boy it shows.

This cast of characters that Ian chooses for the road proves a great choice including James Mastro, Oingo Boingo, joins in with mandoline.

That wonderful sence of positivity that British Rock & Roll has: "your never too small to hit the big time" "Your gonna get it all, bouncing of the wall" What Ian and Mott the Hoople gave us was a feeling of 'King of it all'!