Girls Girls Girls
Lock up your wives your girlfriends, your daughter's Motorhead's in town!




With all the beautiful babes waiting to get in to this memorable gig, the bouncer guys ran along the mile stretch of people patiently waiting for the doors to open, "All girls come on in, any girls standing in line, you are to come to the front and come on in." Girls followed. Boys stood there, "what's going on, is Lemmy going to steal my chick?" Uh, oh! In pure unadulterated Rock'n'Roll style, Motorhead rocked the World!! What a place to Metal! The whole WWF, Times Square, became a night of Metal heaven. Phil's guitar worked wonders. He was serious, brilliant energy. Mickey beat up a rhythmic storm and Lemmy, ah... Lemmy, pure Overkill! Motorhead were glorious.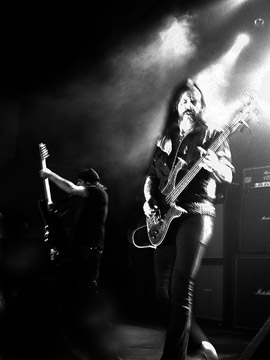 Opening up their bombastic set with We Are Motorhead, getting Killed By Deaf, showing true British grit in the Sex Pistols' God Save The Queen, could Lemmy be lamenting for his motherland? They did an extreme version of a classic that hadn't been in the set for a long time, Just Cause You Got The Power Doesn't Mean You've Got The Right. Oh, they played all the favorites, Metropolis, Iron Fist, Born to Raise hell, Overnight Sensation and from Hammered came Shut your mouth. And to top it all off, Vanilla Fudge drummer Carmine Appice showed up to join in the fun playing on 'Going To Brazil' from the 1916 album.




Motorhead Dedicated this whole ultra set to the firefighters of NY...




There could be nothing left but Overkill. Motorhead showed how they got 'No Class' and don't need to prove nothing, this was a truly magical moment.




The three piece, as it should be, the way Motorhead was conceived, gave us one of the best performances. I must say, I was hoping that maybe a wrestler or two might have been there to introduce the leader of Molten Metal, but well, you can't have everything.