Punk rock diva and icon NINA HAGEN blessed New York, New York with her presence in September. I missed the two "Shiva Nights" at the Living Room on the 5th & 6th, which kicked off her visit. I heard that she showed her film "Om Gottes Willen" and sang spiritual songs in this intimate setting.

The high point of Nina's NYC stay, for me and many others, was the show with her band at Webster Hall on Sunday the 8th. I hadn't been in that place since the 80s when it was the Ritz, and the scene added to the time-warpedness of going to see Nina, whom I also hadn't seen since that gone decade. That grand old hall seemed more splendrous than it had then - the litter and graffiti were gone, it's been fixed up like the rest of the city (I was in a bit more of a haze back in those days then too).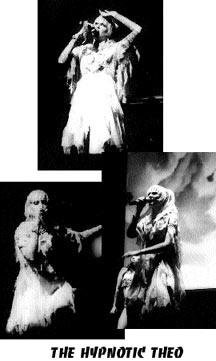 The show was kicked off by the Theo experience. A far cry from The Lunachicks, this is more of a media experience than live music. Her beautiful voice delivers her heart-felt insightful songs over programmed tracks, while she moves gracefully along with two go-go dancers. I couldn't tell if the mic she was holding was live or for effect - but it was kind of strange that even words like "The next song is..." were coming off the track. I was grateful for the psychedelic projected background visuals, which went very well with the two little papers I had swallowed earlier. Nina's long-time friend Ari Upp of the 70s punk band The Slits was up next. She exuded a bright positive spirit with a number of Reggae-Rock numbers about such things as the love of God and mankind, but my favorite songs were the early Slits tunes, evoking an early Clash style, which, as Ari put it, were "the real shit." New York's own beloved Toilet Boys then laid a great set on the crowd. Their rock-n-roll splendor is well-suited to a grand hall like Webster, and they worked the growing crowd into a frenzy. The festive air was maintained between the acts by a number of go-go dancers on well-placed platforms throughout the hall, orchestrated by Anne Hanavan and Rafael Sanchez.

The tightly packed humanity was bursting with anticipation by the time the goddess everyone had come to see took the stage, amidst screams of "I love you Nina." It was particularly fitting when Nina sang "The Return of the Mother," not just because she is the proud mother of two beautiful children, but because she is something of a punk mother figure to so many younger fans. I hadn't seen her since she performed at Danceteria in the 1980s, and it was wonderful to have her back on stage. Her newer material was mixed with old favorites such as "I Was Born In XIXAX," and the crush in front of the stairs leading up to the stage got increasingly tight as the show went on. Nina took a break from the rock to sit on the floor at a harmonium and share a number of Himalayan tunes with us, but of course everyone was elated when she did a funky-as-ever rendition of her classic "New York, New York."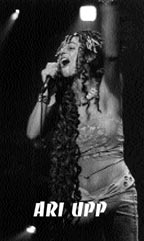 Those of us who attended Nina's showing of her (first) "film" the next day at Anthology Film Archives got to see a different, deeper side of Nina Hagen. "Om Gottes Willen - Om Namah Shivay" is about Nina's visit to the Himalayas to study with followers of the guru Babaji. Whether or not you subscribe to the teachings of the master, or to any religion at all, it is uplifting to see the joy it has brought Ms. Hagen to have found such enlightenment and purpose through her experience. It is not as though she has found "the one way" as some religious people seem to think they have. Hindu and Christian gods are revered alike, and it was fascinating to see Nina in the film doing a Christmas play with little Hindu children. In the scenes showing Nina with no make-up and a freshly shaven scalp, she looks lot more like a monk than a punk, the peace and joy radiating from her beautiful face. After the film, she took questions from the audience, and performed several spiritual songs on harmonium with a close friend. She never stops being "Nina," though, squeaking out the words "New York, New York" between verses of the otherwise incomprehensible tunes.

A number of people walked with Nina following the screening to a nearby bar, where I got a chance to speak with her a bit. There were other interviewers ahead of me and waiting after me, so I only got to ask her a few questions (see box).

As if that weren't enough, I was at CBGBs on Sept. 11th for Kipp Elbaum's "Night of Remembrance and Hope" concert, where some 17 bands performed. After about the 15th band, I'd had it, and was about to leave around 1:30 AM. Suddenly, to everyone's surprise and delight, Nina Hagen showed up and took the stage. (Her Webster Hall stage man, who also handled the equipment at CBs, and had invited her to stop by.) We were treated to yet another side of The Mother, as Nina rocked out on solo acoustic guitar and sang several new songs. With her full band in a large hall, or on a small stage with just a guitar, her brilliant mind always shines through, with those zany faces and vocal inflections we've all come to love over the years. All Hail Nina!