REVENGE 88
photo Natalie©
If Underground Rock had another name, It would be Revenge 88
It was in New York when I heard that Revenge 88 was going to perform on the 20th of December in Ostende -Belgium- I already knew that there was no way I would miss that show. It was a trip I really had to make.
You might not know about them, but they were at the origin of the Belgian punk/underground rock movement of the late 70's.
They started out as StageBeast, and recorded, in 1978, a first single entitled "Belgium (ain't fun no more)". It soon became #1 Punk single in Belgium.
StageBeast, fronted by Frank Dubbe, was the wildest band you could ever have seen. They turned everything upside down, ripping the old scene to shreds to create a new one, their own.
StageBeast quickly lost their record deal after joyfully wrecking the EMI manager's office in Brussels.
They changed their name to Revenge 88, and recorded a second single, "Neonlight". It was another success, and the music video got aired on the HitRing.
The band never lost its attitude and energy, but became even better, musically speaking.
As far as Belgian Rock was concerned, they were the real deal.
Bad luck came in the way, and while The Kids got to tour overseas, Revenge 88 remained underground. They were too uncontrollable to be approached by major labels.
Those guys were playing for fun, they weren't businessmen and were certainly not ready to change just to please record companies.
If you ever go to Belgium, talk to people and you'll realize that there's not a single person who saw them live who doesn't have some cool or crazy story to tell about them.
Another great 7inch got released in 1981"Thousand Years From You".
The band kept performing and played many festivals.
Later they changed their name again recording a 4 tracks EP as Moonlight Crow, and releasing some more singles in the early 90's.
As time went on, their music evolved and improved without ever losing its originality.
In 1997 they were seen on TV again, and that same year French punk band the No Talents ripped off the song "Belgium" for their first album.
It's not like the StageBeast/Revenge 88 singles hadn't been used many times before anyway. They became bootleg favorites of all time, ending up on the famous Killed By Death, and Bloodstains Compilation albums, and the original 7inches are now sold for prices ranging from $99 to $300.
They even got –and it continues these days- radio airplay in the U.S. (including on WFMU).
In 2003, Revenge 88 was invited to perform on the main stage of the Paulusfeesten Festival for more that 1.000 people.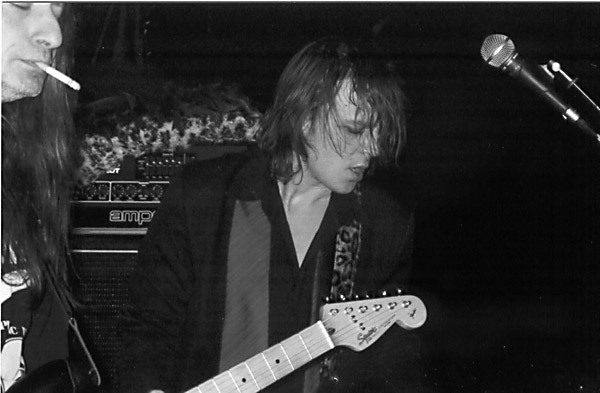 photo: TGoze©
Dubbe, on vocals, Lucky Stone on drums, Misty on guitar, Glenn (also from Marky Ramone & the SpeedKings) on bass, and Erik (also from Gorki) on guitar.

That live performance was professionally recorded and produced by Serge Feyes (TC Matic, Arno), but remains unreleased as the band is still looking for a record label.

By the end of 2004, people from Belgian television read something I had written about Revenge, and it caught their interest. They decided to shoot a 20 minutes documentary for VTM (Belgian channel).
The shooting started on December 20th, and I was invited to be interviewed. On the same night the band was performing at the Manuscript in Ostende, giving an opportunity to the TV team to get more live shots for their documentary.

That Monday night my train was late, and I had to rush to get to the Manuscript which
was already packed. I soon walked upstairs to meet the band.

The video camera was already shooting when I shook hands with them... it was a weird
way to meet, but it was fabulous for me to be there.

It's a little bit tough to be interviewed right after a 5 hours train ride, but I did my best anyway.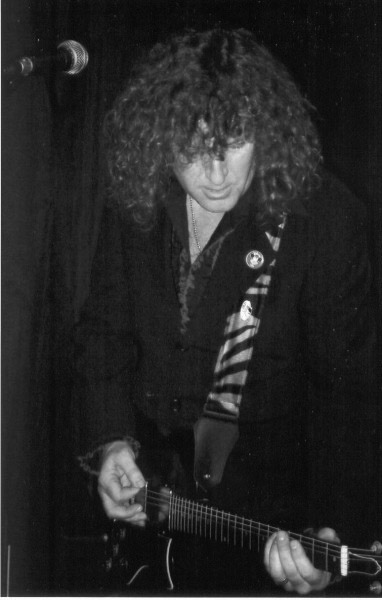 photo: TGoze©
Why am I fighting for Revenge 88?

One could say that, if I've been giving time and effort to promote them, it's only because they highly deserve it.

I feel like what I have done -and will keep on doing- should have been done long ago.
Since the 70's, Dubbe and his pals never gave up on Rock'n Roll.
In the good and bad days, in the fame years or underground.

They always went back to it.

Revenge 88 never backed down, never said "Why should we continue?"....

And it has been more than 20 years of rock.

To keep fighting like they've been doing for so long is -to me- the best proof that Rock'n Roll is in their blood and hearts. They live for it.

And it's not about dreams of stardom, it's not about the money…it's all about talent, and integrity.

Each time I look back at their discography, I'm amazed.

From StageBeast until now, it's a history of great songs and tunes.

When Revenge 88 hit the stage that Monday night, it is magic that happened.

Dubbe, Lucky, Misty, Glenn & Erik played one of the best show I've ever seen in my life.
Those guys brought back to life the true meaning of Rock'n Roll... and I realized what I knew all along…
They were born for that.

Seeing Revenge 88 live was a unique experience. I was standing in front of the stage, completely blown away.

The band played 19 songs. The set-list included some of their old singles and some songs that never got recorded (including masterpieces such as "Teenage Monster"- one of the best song I ever heard). A couple of covers were also played, and the band introduced a new song to their set.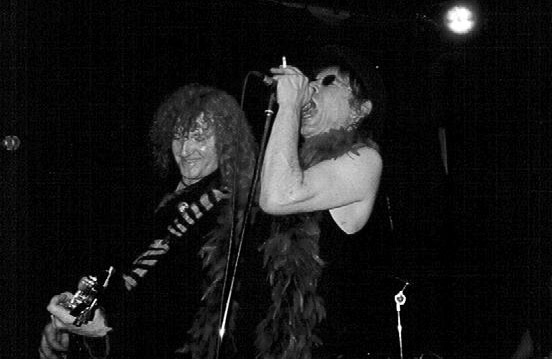 Photo: Natalie©
If I had to give a list of the 5 best gigs I've ever seen, Revenge 88 would easily make the list. And as far as stage presence is concerned, I can't name many frontmen who could compare to Dubbe.

I looked around at the audience and saw the video camera shooting. I felt good about it. If it happened a little bit because of what I wrote, I'm glad I did it.
And if only ONE person discovers Revenge 88 after reading my articles... then it was worth my time.

I remember being in the US and trying to get people from magazines to read the Revenge bio (now to be published in MaximumRocknRoll)....at times I would get almost depressed, because it isn't that easy to get someone to look into a band when they don't know about it. There's a million bands in this world, so why would they want to hear about this one more than about another?
But just like Revenge 88 never gave up... I decided I would keep fighting.
Because if Rock is running in their blood, it is running in mine as well.

What would be life without Rock'n Roll?

What would be my life without Revenge 88?

I stood up for what I believe in... and maybe that's what finally makes a difference.
Because when people see you so determined, they start to believe that you must have a good reason to be shouting out loud what you have to say.

I have a lot of respect for Dubbe, Lucky, Misten, Glenn & Erik.
One has to show respect for such unique talents, and for their perseverance.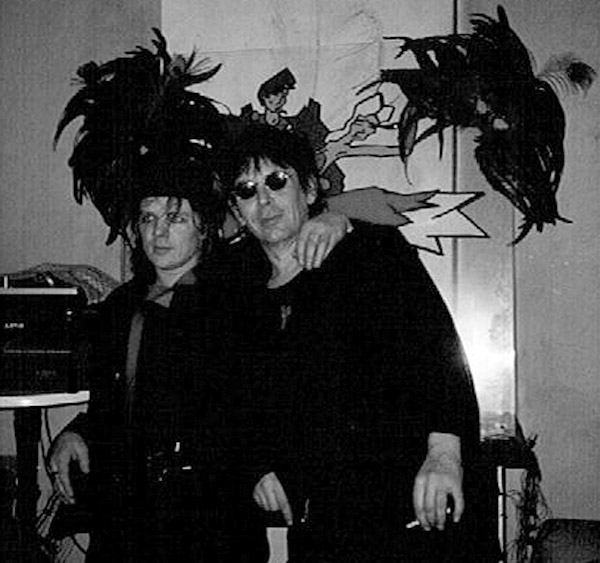 photo: Nataließ©
I was in a shock when the band invited me to join on stage for a high octane cover of "Chinese Rocks" .
It was a real honor to share the stage with one of my all time favorite band, a true underground rock legend.

It was a fabulous night, and somehow I felt like this was a small page of Rock history that was being written... and I know that's what Revenge 88 are doing at each and every of their gigs.

They are certainly not like every band, they are originals.
It has now been more than 20 years of true Rock'n Roll... the one we love and believe in, the one that makes us breath, the one that makes us walk the streets at night.

In a world ruled by bankers, music has long gone down the drain...
And even if I want to believe that there will always be true Rock'n Roll bands... I know that there is only one Revenge 88.

So this goes out to Dubbe, Misten, Lucky, Glenn and Erik…
-those guys are up there with my all time favorites, and they don't deserve any less-

Keep on fighting... I'll be fighting by your side.
NYCthom@hotmail.com
www.Revenge88.tk

Thomas & Dube