Mr. Phreek's Summer Vacation
by chuck.foster
Ho ho ho, I've been a busy busy boyo during my time off, vagrantly vagabonding my way among the carnivorous concrete you call home. Yes, my sickly saplings, my car-my home, the couches and hard-wood floors of giving samaritans-places for me to rest my weary head in the wee hours of the morning after saturating my system with alcohol in a typical evening of excess.
My adventures began, brothers and sisters, at Fun With Dick and Jayne Night, Manitoba's, Ave B. The Handsomest Man in Rock'n'Roll, Mr Dick Manitoba himself, bartended as the lovely Jayne County DJ'd for our eavesdropping pleasure. That's right, folks, THEY said it would never happen, that these long-standing enemies would never kiss and make up, but THEY were obviously wrong (and who are THEY anyway?). For entertainment, we had Yidcore from Australia, a Hebrew Hardcore band proclaiming the virtues of Judaism with a passion unheard since the Song of Solomon. Then Attila the Stockbroker took the microphone with an incredibly boring musical set until he ditched the band, jumped on the bar and recited his excellent poetry, which he should have done the whole time. Finally, TV Smith of the Adverts grabbed and acoustic guitar and assaulted us with "unplugged" versions of Adverts songs, and did a damn good job of it, too.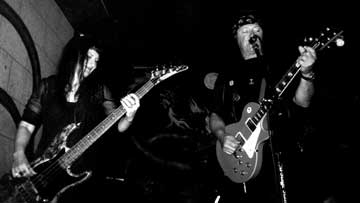 Sometime later, I found myself at Thee Almighty Continental, where I had the pleasure of being blown away by the Tijuana Bibles and the misfortune of being annoyed by some really horrible bands. The highlight came at the end of the night however, when Sea Monster attacked the stage with their unique style of dark, drunken punk rock. You know, it boggles my mind: This band has been around for about 20 years now, and they're still playing the local circuit with little or no notoriety while really shitty bands who shall remain nameless (because there are too many to mention) gain too much attention. This is one of the most original bands I have ever seen and heard and they truly have paid their dues. So instead of going to see your friend's band for the umpteenth time (and they're not very good anyway, admit it), go see these veterans and support some REAL creativity and talent for a change.
A week later, I caught Vagnerluk at a very cool club in Queens called Castle Heights. Vagnerluk is fronted by Sea Monster guitar extraordiniare, Lord Flakout. They're a rockin' metal band with a Captain Beefheart sensibility. Go check em out, get drunk, chant "Saint Satan" with your fist in the air and remember: Wear black or nothing at all!!! That night, I slept in my car under the BQE in Williamsburg (yuck-Williamsburg, I mean-it BLOWS), woke up and drove to Coney Island for the Siren festival where I was continually disappointed by one band after another. It was all this New Wave of Indie Rock: Overly complex songs without any hooks or memorable riffs, but, gee, the songs sure are difficult! (Aren't you impressed? I'm not.) Come on guys, you've made your point with tons of eight minute songs that lead nowhere, now try writing a three-minute song I'll remember. Only the Village Idiot Voice would host such a lame, pretentious waste of time.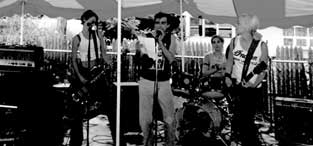 Somewhere in my travels, I caught the Comic Book Legal Defense Fund (CBLDF) Benefit at Josie's Pub near NYU. Such names in the Comic Book Industry as Frank Miller, Bob Schreck, Axel Alonso and Jimmy Dalmiotti were there to say, "Fuck Censorship!" as well as Superhero, a lovely lapdancer who strutted her stuff for freedom of speech (and donations).
I kicked off August by seeing Fixer at a club called Southpaw in Park Slope, Brooklyn. Fixer is a no-bullshit, straightforward hard rock band who write excellent, original songs. Their stage performance is incredible-yes, they actually MOVE as opposed to these too-cool-to-get-into-it bands I usually see around here. Take my word for it, these guys are gonna go places and I'll be laughing my ass off when they're on MTV and your friend's lousy band is still playing the same shitty dives.
The next day, I found myself at the Vans Warped Tour, another heaving disappointment. Guttermouth bored me after ten minutes. So did Bad Religion. In fact, EVERY band I saw bored the hell out of me. I moved from stage to stage seeking something that would sustain my attention, but all in vain. To complicate matters, the place was infested with 20year old jocko fuckheads-you know, the guys who beat you up in high school until Blink 182 got big. And of course I got stuck watching all of fucking NOFX's set, and they were just as asinine as I expected. I hate them. A lot.

The following week, I managed to catch a rare Otto's Daughter acoustic set at an underground Goth party in SoHo. Despite feedback problems with the microphone, Jacqueline's lovely powerful voice remained strong as bassist Sebastian backed her on guitar. Then I managed to catch Barry Williams aka Greg Brady (yes, THAT Greg Brady) hosting Karaoke Night at Legends, a bar in New Suffolk, a small town on the North Fork of Long Island. He sang a takeoff of Eminem's "Slim Shady" ("Will the Real Greg Brady Please Stand Up?") and a duet ("Hopelessly Devoted" from "Grease") with a drunken fangirl. I got drunk and sang "Wild Thing" while doing obscene things with a beer bottle, which offended the conservative crowd. (It's a very right-wing area-Fuck'em.)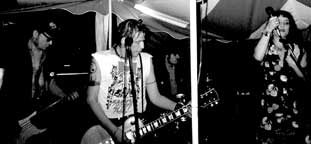 Finally, I attended the White Trash Barbeque, hosted by Phil of Graveyard Slut and his wife, Patty. Bands, booze and barbeque-who could ask for more? Dirty Mary opened (as they do every time I happen to see them-odd) with guest vocals by the New York Waste's Man About Town, Robert Lund. Juvie punks, the Skants, played a great set for their first show. The Sick Ducks quacked me up.The Suicide Kings played, and I got to meet vocalist 4-way, who was the singer for one of my all time favorite SF hardcore bands, Bad Posture. Graveyard Slut were great as usual. I was particularly impressed by Virulent Strain, an intense crust thrash outfit, the likes of which I haven't seen since I moved here from LA. Jones Crusher played a great set of punk fuckin' rock. The Drossells bashed out their down'n'dirty rock'n'roll minus their sax player, allowing the dynamic talents of Burny and Li to come forward. For me, the highlight of the night came with the sudden appearance with the sudden appearance of Maggot. THIS is what I have been searching for in NY. Dark, angry, down and out, dirty noise feedback a la Fang/Flipper. Finally, a band pushing the limits of hardcore instead of playing the same Minor Threat riffs ad nauseum. Rather than ape their influences, they use those influences to create their own sound. I'm definitely going to keep an eye peeled for these guys in the future (and I'll let the blood run down my face).
So that, my Bohemian Bretheren, was my Summer Vacation. Action-packed and loaded with excitement, disappointment and alcohol. I even met David Peel. I still didn't get laid, though. It's been eight months and counting. Anyone care to wager on whether I'll make a year?