CONFESSIONS WITH
MICHAEL MALICE

When John Holmstrom-founder of Punk magazine-got together with NY Decay (http://www.nydecay.com) to celebrate his birthday, this intrepid reporter knew it was a night not to be missed. I sat and talked with the birthday boy, as well as headliner Joey Lanz of the Bullys.

Malice: What's happening with Punk magazine? Vol. 2, Issue #0 came out 2 years ago.

John: We're looking for enough financing so we can keep going for like 4 or 5 years without interruption. We have a couple of people interested in it and we're shopping the business plan right now. What happened was, I put the business plan together and we got it together and then... 9/11 happened. Yeah. I was so devastated by what happened with Johnny and everything else that I was in a fog for like 3 to 6 months afterwards. Our office is like 2 blocks away. I was supposed to meet with someone about pitching the business plan on 9/11 in my office.

Malice: So you were in your office that day?

John: No, we were supposed to meet in the afternoon.

Malice: Typical punk style. You're not going to be there in the morning.

John: Exactly. And when I heard what happened with Johnny I was devastated, because they were like the Ramones. It was like, "Fuck, man, the fucking terrorists are killing punk rock this time." I started Punk magazine in 1976 because I saw the Ramones and the Dictators. I wanted to restart it because I saw the Bullys, and it's like the fucking terrorists tried to kill punk rock. They were my inspiration, because you can't put on a magazine like this in a vacuum. You need leaders, you need a band to write about, more than one band to write about.

That was the other inspiring thing about starting a magazine. I didn't know what else to do, so we started this thing on the website called 'The Listening Party.' We invited people to send us their CDs. And these motherfuckers, the Mud City Manglers, sent us their CD and it got the best reaction anyone ever got at a listening party. We had 6 people there and everyone went nuts for it. From that moment on we wanted to party with these guys and have them play a show, and tonight was the culmination of that.

Malice: What a great birthday present to you.

John: Tonight was the greatest night of my life. I did a thing 2 years ago and it's kind of legendary now, because Johnny was there with the Bullys and people didn't understand what they were missing. Johnny Heff and the Bullys, the Dictators, Niagara, Charm School and Alternative TV. We had an all-star lineup, and I'm forgetting like 10 other groups right now. We put on a great night. I do feel like we wanted to get the NY scene back in the national limelight without being restricted to that, like we did back in the 70s. We weren't New York Rocker.

Malice: It's a state of mind, not a location.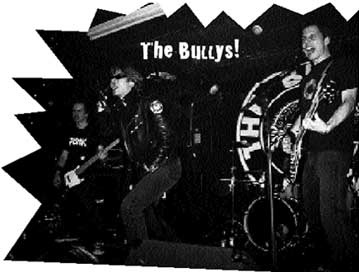 John: Exactly. I've stayed out of the music for 25 years, because once the CBGBs scene died I never heard music that interested me in any way. But the punk rock & roll scene now that's started up is exactly the kind of music I wanted to hear that made me want to start Punk magazine. I didn't like the London punk scene too much and I didn't like hardcore. I liked the Stooges, Alice Cooper, Blondie. The music I'm hearing now in the clubs is as good, or better, than what I heard back in the day. Before I started punk, I was just a kid going out to see Jimi Hendrix and Deep Purple, all that stuff. I saw thousands of concerts, so I don't think I'm just some guy talking out of my ass. And so many people came up to me tonight and said all three bands-Meat Depressed, the Mud City Manglers and the Bullys-were some of the best shit they've heard in a long time.

Malice: I'm one of them.

John: I feel like I want to bring out Punk magazine again because you need a filter to say, "Here's the best stuff." If you look at the history of the NY scene, Punk magazine came out in 76 and we made the punk scene happen. Then we were forced out of business by all this bullshit, and then the scene kind of died. I felt really bad all those years that I couldn't have kept the magazine going, but we couldn't because of all this economic and social pressure. It really hurt the NY scene and the punk scene. I really feel like people are shortchanging themselves now if they don't get out to the clubs. I don't know if any of these bands are going to be big or not. But I heard a few years ago, "Oh, music sucks, there aren't any good bands out there." There are good bands out there. You've just get out there and enjoy it. You've got a lot of hardworking bands out there who really understand punk rock. It's like it took 25 years for this shit to sink in.

Malice: Don't you think it's a big misconception people have that punk is very negative music?

John: I can't believe what I read in the media. They think punk rock died in 1977. We went out of business in 79 because everybody said punk was dead. Then I'd go into a club to see the Misfits, and I'd think, "What the fuck is wrong with the world?" All these assholes insisted it died. But you can't fight the overwhelming media conception of this shit.

Malice: Isn't there the sense of "Fuck the media"?

John: Yeah, but I couldn't keep a magazine going when every record company said it's dead. Things collapsed. That's why I'm hoping to do everything right this time. If I bring out Punk magazine this time, we're not putting out one issue and going out of business. We're going to be in business for a few years, we're going to do things right, and we're going put this shit on the map. And if I can't do it right I'm not going to bother doing it.

Malice: What are some of the fondest memories you have of people, people who have been friends with you all these years?

John: Debbie and Chris of Blondie were the best. They were the best friends I ever had. Chris hired me after Punk went out of business to do Animal Records logos. I hand-lettered the labels. They were really great. I would hang out with Debbie when she was world famous and it was so exciting to see that, because I had seen them open for the Ramones in NJ when 3 people were there. They came down to the Sleaze Convention in 76, just hanging out with us as friends. They're really great people. And that's the thing, it seems that the most successful people I've met, like Chris and Tina from Talking Heads, Joey Ramone, they're nice people. You need good people skills if you're going to make it. It doesn't matter what your music is, it doesn't matter what your message is, it doesn't matter how good your stage show is. If you're an asshole, stay home, you're not going to make it.

Malice: Patti Smith. She's always had a reputation for being 'difficult.' Do you think that's unfair?

John: Yeah. We were a nothing fanzine, and she was being written up in the NY Times and was going to be the next big thing. She made time for us to do our interview for the cover story that we did for Punk #2. It was very nice of her, and it was the first time we met Lenny Kaye. Lenny Kaye is one of the people I've met who really understands rock & roll. He was Doc Rock, one of the first guys to publish a fanzine. All the guys in her band were great guys. Patti, way back when, headlined our benefit when we were about to go out of business. We needed her to headline the benefit to sell enough tickets to stay in business and she had her neck brace on.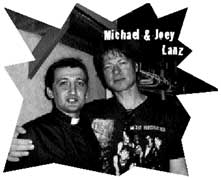 Malice: From when she fell off the stage?

John: Yeah. It was the first show she did after that. I will always be grateful to Patti. I've got nothing bad to say about Patti. It was Patti doing Piss Factory, that DIY single that I bought in 1975 that turned my life around, it energized me so much. That was such a great single. Patti takes a lot of shit from people, but they're idiots. Patti was wonderful.

Malice: What question are you sick of answering after all these years?

John: "What was it like to see the Ramones for the first time?"

Malice: At least I didn't ask that.

John: I'll tell you. I saw them in August of 75, it changed my whole life. I saw Alice Cooper in 72 and it changed my life. I couldn't find another fix, couldn't find another band as good, and then I saw the Ramones and it was like, "Yeah, there they are." And I was just lucky enough to get my friends to support me, and the rest is history.